Back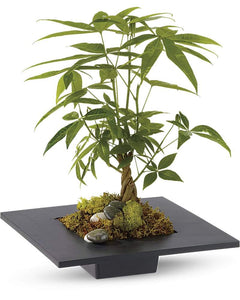 A money tree is planted in a square black container, and adorned around the base with deerfoot moss, plus black and white rocks. USA delivery.
Money Tree USA
Gift of Money Tree from the UK
I bought the Money Tree gift for my daughter who lives in the US. The website was easy to use, and the Company's communication with me was excellent. My daughter was delighted with her gift which was delivered on the date stated.
Too early
The plant was supposed to be delivered on 3rd April. If it has already been delivered it is too early for a birthday present. Please confirm the delivery date.