Back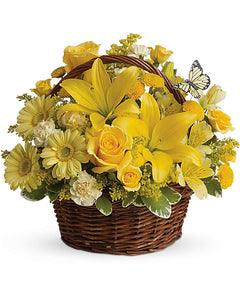 Surprise your loved ones in Germany with a stunning arrangement of fresh and vibrant flowers in our natural brown basket. Bursting with cheerful yellow lilies, gerberas, and roses, this arrangement is also complemented by delicate green leaves, button spray chrysanthemums, and carnations. Each bloom has been carefully selected and arranged to create a harmonious and visually stunning display. Perfect for any occasion, from birthdays to anniversaries, or just to brighten up someone's day, this arrangement is sure to convey your warmest wishes and bring joy to the recipient. Our Germany delivery service ensures that your thoughtful gift will arrive on time and in perfect condition.
The recipient loved it
My first time with this co. Will definitely use again.