Back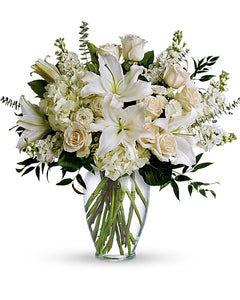 Introducing the Dreams From the Heart Bouquet, the perfect gift for any occasion! This stunning arrangement is expertly crafted with love and care, and designed to bring a smile to your loved one's face.
Featuring a beautiful selection of premium flowers in shades of pink and white, this bouquet is both elegant and timeless. Delicate roses, fragrant lilies, and stunning hydrangeas are expertly arranged in a clear glass vase, creating a truly breathtaking display.
But this bouquet is more than just a pretty arrangement. Each flower is carefully selected for its unique qualities, including its color, fragrance, and overall beauty. And with its long-lasting blooms, your loved one will be able to enjoy this gift for days to come.
But the true beauty of the Dreams From the Heart Bouquet lies in the emotions it evokes. Whether you're celebrating a birthday, anniversary, or simply saying "I love you," this bouquet is sure to touch the heart of the person you care about most.
So why wait? Order the Dreams From the Heart Bouquet today and show your loved one just how much they mean to you. With its stunning beauty and heartfelt message, this bouquet is sure to make their day unforgettable. Send this bouquet anywhere in Mexico.