Back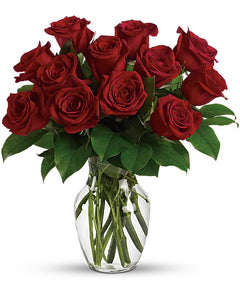 Classical dozen red roses is one of the best ways to show your love and affection. It is the most suitable roses bouquet for love and romance occasions, the best selling bouquet on a Valentine's Day. Send a dozen red roses to your loved one in Mexico. 
* The vase is not included in the price when you buy a bouquet, you can add one if you want.
Great Service!!!
abcflora - highly recommend. This was an international delivery and it went without a hitch.
Beautiful arrangement - flowers arrived fresh and vibrant. Process from start to finish was easy.
Website easy to use, order placed, date allocated and confirmation received.
On delivery day as it was international, emailed abcflora for delivery time and received instant reply during their business hrs with time flowers were delivered and who accepted them.
Great customer service. Will use them again.
Thank you abcflora.
Thank you so much for taking the time to leave this excellent review. We really appreciate your business. Your positive feedback about our international delivery service, fresh flower arrangements, and customer service truly made our day. It's customers like you that make our job wonderful.
We work hard to meet expectations like yours, and we're happy to hear we hit the mark for you. Our team is thrilled to hear such good feedback, and we're proud to be one of the coziest and most unique flower delivery services.
We're glad to hear that you found our website easy to use and that the process from start to finish was smooth. It is our priority to ensure that every customer has a seamless experience, and it brings us great joy to know that you appreciated the efforts we put into your order.
We also appreciate your kind words about our customer service. We are dedicated to providing prompt and accurate information to our customers, and it's encouraging to hear that it made a difference for you.
Thank you once again for your kind words. We look forward to serving you again in the future!
The Flowers were awesome !!
The only problem I do have is that the flowers were delivered with no vase and this did cause an inconvenience to the person I send them to and the truth is that they were pretty pricey so I would've expected a complete service.
🌹 ROSES
Delivery was a day late but some confusion with Mexico address. Chat people were very helpful and got everything straightened out. I would definitely use abc floral again.